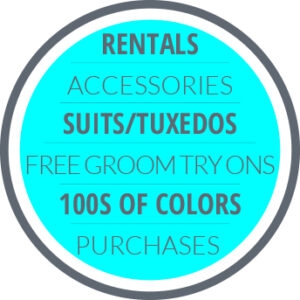 Getting Started 1-2-3
1. SELECT A STYLE
Browse our suit and tuxedo options, either in-store or online.
2. SCHEDULE
Register your event, or make an appointment at The Tux Shop on Woodward.
3. COME TO THE STORE Visit The Tux Shop on Woodward.
Convenient Location
•Not located in a mall or large strip center.
•Free parking and easy in and out parking lot.
Save More With The Tux Shop on Woodward
•Register your event in advance and enjoy even more savings!
•When renting with The Tux Shop on Woodward there are NO hidden fees or damage fees.
Want to Buy?
Yes, you can buy suits and tuxedos, starting at just $399.99. Come into The Tux Shop on Woodward and check out our collection.
For Your Wedding
Below are some other helpful facts to know when booking your wedding with The Tux Shop on Woodward.
Courtesy TRY-ON
We allow our customers to try on for free, before booking! There is no ordering from catalogs with The Tux Shop on Woodward. We want to make sure you can try our styles on and find something that fits your style and budget.
OUR SPECIALISTS
When you are at The Tux Shop on Woodward, you will work with one of our professional specialists to find your perfect styles and colors. We will match your colors and organize your event booking.
REGISTER YOUR WEDDING
When you register your wedding with The Tux Shop on Woodward, you will receive exclusive offers and specials – so that your wedding party will save!
WEDDING PARTY
Whether your wedding party is local, out-of-state, or out of the country, we make the fitting process simple. Notify your wedding party that it is time to get measured. They should be measured at any formalwear shop that is convenient for them. Then they can submit their measurement information on our website.
PICKUP
During the Final Fitting, we will inspect each member of your party to insure a perfect fit. Adjustments are made timely either the same day or the next day to ensure that each tuxedo is perfect on the big day.
RETURN
Rentals will be returned to The Tux Shop on Woodward the next business day after your event. One person can return multiple rentals on behalf of others. Late Return Fee: Per day $20.00. A late fee will be accrued daily and charged in a lump sum, upon the receipt of the late garments, up to the full replacement cost of the applicable garment. If a garment is returned more than 21 days late, the customer will be charged the full replacement cost.
Tuxedo or Suit?
Suits and Tuxedos have some basic variances. With today's styles, the differences between the two may not be as dramatic. Below are some facts about each.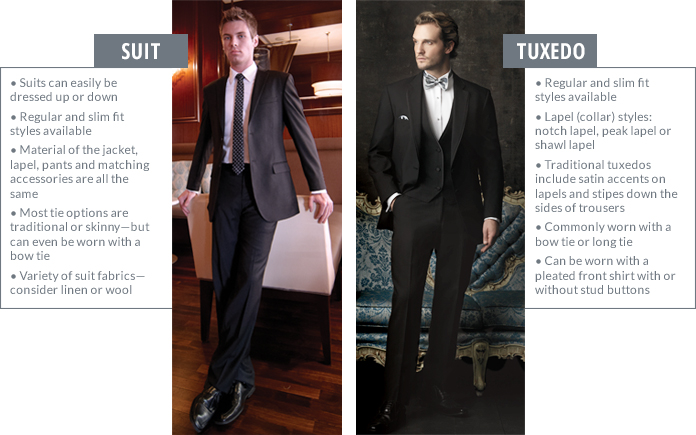 Glossary ~ Menswear Fashion Terms
4-in-hand tie A necktie fastened in a slipknot like a man's regular necktie.
Ascot A wide scarf or necktie, knotted so that its broad ends are laid flat upon each other, usually worn with a cutaway tuxedo.
Band bow tie A bow tie with an adjustable band that wraps around the collar of the shirt and connects with a clasp.
Besom Pocket A very narrow piping above the pocket slit. Can be satin besom or self besom, with flap.
Button Cover An ornamental device worn at the neck of the shirt, clipping onto the button of the collar.
Collar The turned-back material of the coat that falls around the back of the neck. Can be made of satin or the same material as the coat.
Cummerbund A broad sash worn over the waistband of the pants. Pleats are worn with the opening facing up.
Cutaway Also known as the 'morning suit.' Usually a dark grey coat worn traditionally for morning weddings. The coat is tailcoat length,with buttons in the front and angles to the tail. The cutaway style coat is most commonly worn with striped trousers, a vest, and an ascot tie.
Dinner Jacket A white or contrasting colored jacket worn with black trousers. Most commonly a dinner jacket will have a shawl lapel.
Double Besom Pocket A pocket style with two narrow pipings in satin.
Double Breasted Coat A tuxedo coat that overlaps itself in the front.
Double Breasted Vest A vest that overlaps itself in the front.
Formal Shoes Typically a patent leather shoe with a glossy finish.
French Cuff A wide shirt cuff that is folded back and fastened with a cuff-link.
Full Back Vest A vest which has a full back panel sewn in.
Full Dress Tails Known as the tailcoat, a very formal coat that is short in the front and long in the back.
Gorge Where the lapels start and the collar ends on a coat.
High Cut Vest A vest that closes higher and closer to the collar and typically has more buttons than a lower cut vest.
Lapel The turned back material between the coat collar and the front button. Can be of satin or same material as the coat.
Mandarin Collar A formal shirt with banded collar only and no wings, usually featuring a wide pleated front.
Notch Lapel A notch, typically triangular in shape is cut between the coat collar and the lapel. This is by far the most popular lapel style for suits and tuxedos.
Pique Shirt/Vest A white shirt or vest with a waffle-like texture on the front panel and cuffs. These garments are part of the traditional "white tie" ensemble and is usually worn with a full dress tailcoat.
Shawl Collar A coat where there is no change from the collar to the lapel. Instead, it is a rounding continuation of the collar.
Shirt Shirts are available pleated, unpleated, with several different types of collars and cuffs, a variety of colors, and may come with or without studs.
Single Breasted Coat A coat that does not overlap in the front, and can have one, two, three, four or even a high five-button front.
Straight Collar (also called lay-down collar) Similar to most men's dress shirts, a regular fold-over style collar.
Stroller Matching short coat to the cutaway. Worn with striped trousers, pearl vest, straight (also called lay-down) collar shirt and 4-in-hand tie.
Studs A small ornamental button mounted on a short post for insertion through an eyelet next to the shirt button.
Tuxedo Specifically used to refer to a suit-length coat, single or double breasted with satin lapels. Generally used to refer to all men's formal wear.
Waist Coat Also known as the Spencer or Eton. Resembles a full dress without the tails.
Wing Collar Also known as stand-up collar, this is a formal shirt, usually with a pleated front that has wing-like pointed appendages.
Fitting Guide
Modern, Slim or Ultra fit, we have the look and fit for every preference. Rented or purchased. Tuxedo or suit. It's all about your style. The Tux Shop on Woodward offers over 50 styles of tuxedos and suits. Each style fits differently giving our customers more to choose from.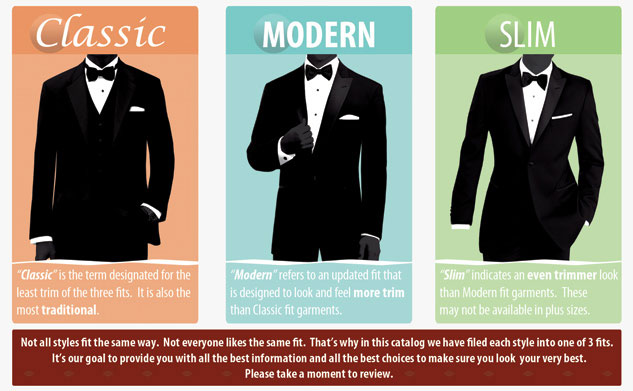 Common Questions
Below are questions we get fairly regularly. Have a question for us that's not covered? Contact us to learn more!
Can I try on tuxedo or suit options in my size before we make a final decision?
The Tux Shop on Woodward offers our wedding customers an exclusive complimentary try-on that will allow you to try on your styles in your size before you decide. Having confidence in the clothing you wear on your event day is an important part of The Tux Shop on Woodward experience.
How much will I be charged to register my wedding?
There is a $40 registration that locks in your wedding party promotion. This sets up the promotion and allows your group to enjoy the special savings and services that only The Tux Shop on Woodward offers.
If I bring in a swatch of my bridesmaid or prom dress swatch, can you show me samples of a matching vest and tie?
Absolutely. We have 100's of different color combinations to look at within our store. Every year our distributors work closely with dress and vest manufacturers to match a wide variety of colors.
Do you have samples of all your tuxedos in the store? Or, would I mostly pick out of a catalog?
All of the options are available to view in the shop. There is no need to pick your attire from a catalog. Visit The Tux Shop on Woodward to see the exciting styles and colors in person.
Can you accommodate same day deliveries for party members who need last minute changes?
Yes. The Tux Shop on Woodward is equipped to make adjustments to orders with back up merchandise and basic alteration services on the premises. Should a larger change be necessary, our Metro Detroit based Service Center is nearby to support additional changes within 24 hours.